Next Up.
Wednesday
June 22, 2022
3-5 pm
Story & Song Center for Arts and Culture
Storytelling Workshop
Everyone has a story, what's yours?
Join Live Ink Theatre founder, Sinda Nichols and explore what makes a meaningful story, how to put your story into words, and what it feels like to share it with others.
Using techniques from How to Tell a Story – The Essential Guide to Memorable Storytelling from The Moth, participants will have the opportunity to bring in story ideas, and get coaching.
The workshop is open to adults of all experience levels.
To reserve your spot, please email Donna.
Saturday, July 9th, 6 pm
Shady Ladies Art Gallery
819 South 8th Street
Fernandina Beach, FL 32034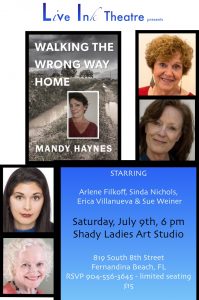 Walking The Wrong Way Home
short stories by Mandy Haynes
Directed by Sinda Nichols
Performed by
Arlene Filkoff, Sinda Nichols,
Erica Villanueva & Sue Weiner
RSVP – limited seating
904-556-3645
$15