Next Up.
Live Ink Theatre presents a
Lively Staged Reading of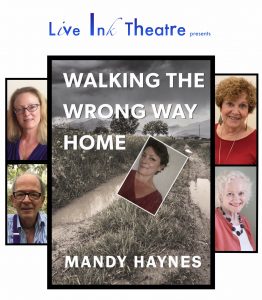 Walking The Wrong Way Home
By Mandy Haynes
Performed by Arlene Filkoff, Ron Kurtz, Sinda Nichols & Sue Weiner
Postponed until further notice
Story & Song Bookstore Bistro
1430 Park Aveneue
Fernandina Beach
Tickets $20
In person: Story & Song Bookstore
By Phone: 904-601-2118
Online: www.storyandsongbookstore.com
Walking the Wrong Way Home is a collection of southern stories that will have you rooting for saints, sinner and everyone in between. "Inventive, original and Southern to the bone." Live Ink Theatre is proud to present staged readings of four of Mandy Hayne's powerful and hilarious short stories complete with "lyrical prose, picturesque settings, and vividly drawn characters".
For more information please contact:
Sinda Nichols: snichols@liveinktheatre.com